Veloped — Features & Functions

Air-Pressured Tires.
Smoothen Your Ride.
Conventional rollators have rock-hard solid tires that offer nothing in the way of comfort when you are walking on cobblestones, gravel and uneven ground. The use of a conventional rollator frequently causes severe pain in the hands, elbows and shoulders.

The Veloped is equipped with air-pressured tires that offer you a softer ride and unbeatable comfort. As they do not cause vibration like solid tires do, you are less prone to suffer pain and discomfort.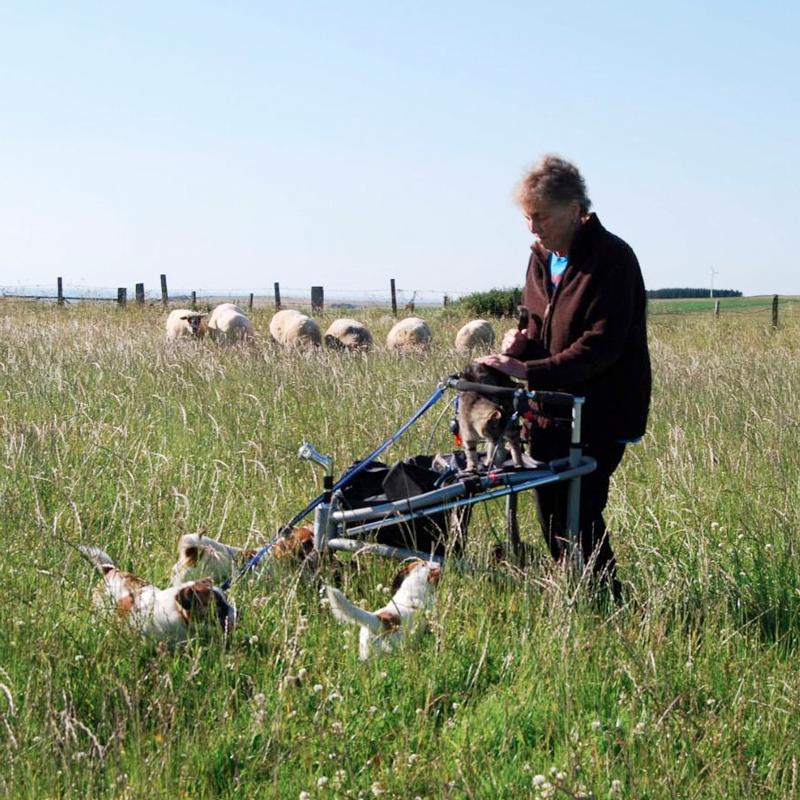 All-Terrain Design.
Enjoy the Outdoors.
Conventional 4-wheeled rollators are not off-road capable. On rough ground one of the four wheels sooner or later loses its contact with the ground, and the rollator starts tipping or comes to an abrupt halt.
Thanks to its 3-wheeler design, the patented climbing wheel and considerably bigger wheels, the Veloped is the only truly off-road capable walker/rollator in the world. When walking on uneven and rough ground, the Veloped beats any rollator, every time.

Trionic Climbing Wheel.
Conquer All Obstacles.
Overcoming obstacles like curbs, roots and rocks is a very common problem among rollator users. If the obstacle is higher than 2-4 cm (depending on the wheel size), the rollator needs to be lifted in order to pass the obstacle.
With the Veloped's unique and patented Trionic Climbing Wheel you'll easily overcome up to 15 cm high obstacles like curbs, rocks and roots, without having to lift the Veloped at all.
---
Slide the Seat Forward.
Enjoy an Upright Posture.
Many rollator users walk with a crouched back, which is of course very tiresome and ergonomically disadvantageous. This is often caused by the seat of conventional rollators being positioned to close to the legs, and there is not enough space for the legs when walking. As a result the user has to walk too far behind the rollator, and the crouched position comes automatically.
When the seat is slid forward the Veloped provides plenty of walking space within the frame. This means that you can walk closer to the grip handles, which automatically results in a more upright and ergonomically correct body posture.

The U-shaped and ergonomic grip bar offers several grip positions, and while seated it acts as a back support. The grip bar can be freely height-adjusted in order to suit your body height perfectly.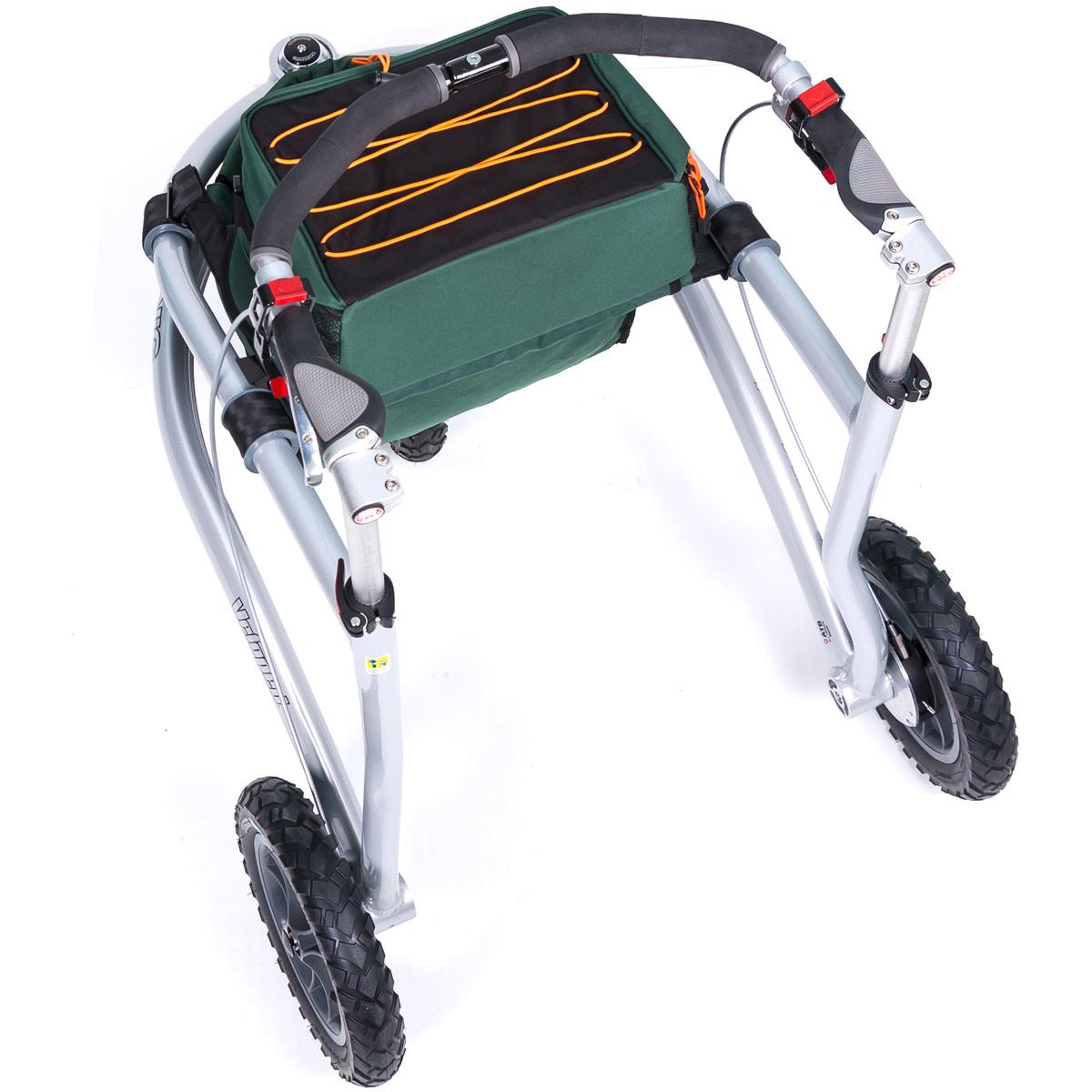 ---
12" or 14" Big Wheels.
Performance is Eeverything.
A bigger wheel simply performs better than a small wheel. With the 12"/31 cm or 14"/36 cm big wheels you'll manage obstacles and rough ground, and your comfort level will increase on any uneven surface.

Foldable Frame.
Easy Storage.
By pressing the buttons on the telescopic folding stay, you can fold the Veloped in two steps.
When folded half-way, it still rolls when you push it and you can easily pass narrow doorways etc.
All-Terrain Brakes.
Safety First.
Thanks to the Trionic All-Terrain hub brake system you can always rely on an optimal brake performance, regardless if you are walking in sunshine, pouring rain or deep snow. The brakes are fully protected from dirt, water and snow.

---
5 Veloped-Models.
Different Seats, Baskets & Bags.
Trionic offers you 5 Veloped models that are equipped with different textile kits in order to suit different activities:
Veloped Sport — for Fitness Walking

Veloped Tour — for Everyday Activities

Veloped Trek — for Hiking & Traveling

Veloped Golf — the Golf Walker

Veloped Jakt — for Hunting

Click the below buttons in order to see the different Veloped models and their textile kits!

Veloped Sport » Veloped Tour » Veloped Trek » Veloped Golf » Veloped Jakt »
---
Detachable Wheels.
Easy to Transport.
The Veloped has detachable wheels with push-button quick-release axles, and you can quickly and easily detach the wheels in order to minimize the transport weight and the dimensions.

Ergon GP1 Grips.
Perfect for Your Hands.
The Ergon GP1 grips offer you a very comfortable grip. They are ergonomic and distribute the weight you put on them evenly. The grips are angle-adjustable and come in sizes S & L.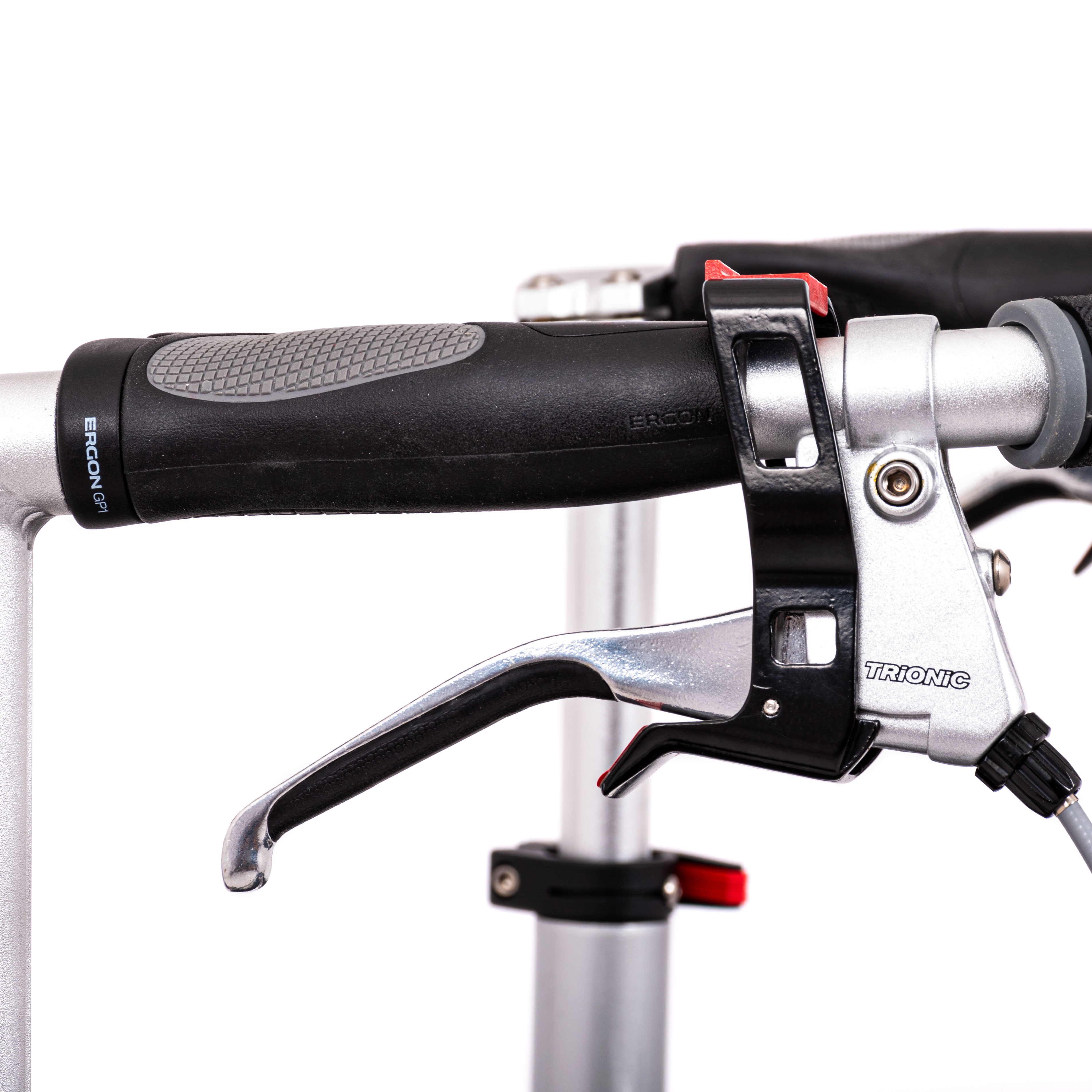 Trionic Brake Lever.
No More Plastic.
The all-aluminium brake lever offers you a solid and high quality feel. When activating the parking brake the parking trigger is easy to operate, and it offers you three different options to engage it.

New 2017/2018 Veloped Models

For 2017/2018 Trionic has developed brand new models of the Veloped that offer additional unique features. The new Velopeds are lighter and offer an even better performance.

New Veloped Frame.
Stronger, Cooler, Better.
For 2017/2018 Trionic has developed a completely new Veloped frame. The frame is welded from unique hydroformed 6061 alloy tubing, which guarantee you years and years of hard use. 2-layer powder coating and a cool sticker kit make for stunning looks.

100% Stainless Steel.
True Outdoor Quality.
Since years Trionic uses screws, nuts, washers, axle shafts and small parts made from stainless steel.
The new 2017/2018 Veloped models also have wheel ball bearings and quick-release axles made from stainless steel.
Trionic X-Country Tires.
Lighter, Softer, Faster.
Puncture protection, skin walls, reflective logos and a carcass made from a high-quality 60 TPI weave that is supple and very strong. The Veloped's new Trionic X-Country tires offer You lighter weight, a higher comfort level and a better grip.
Optimimize Your Veloped
We are all unique, and we have different preferences and requirements. When ordering you can choose between different tires, tubes and grips, in order to customize your Veloped according to your needs.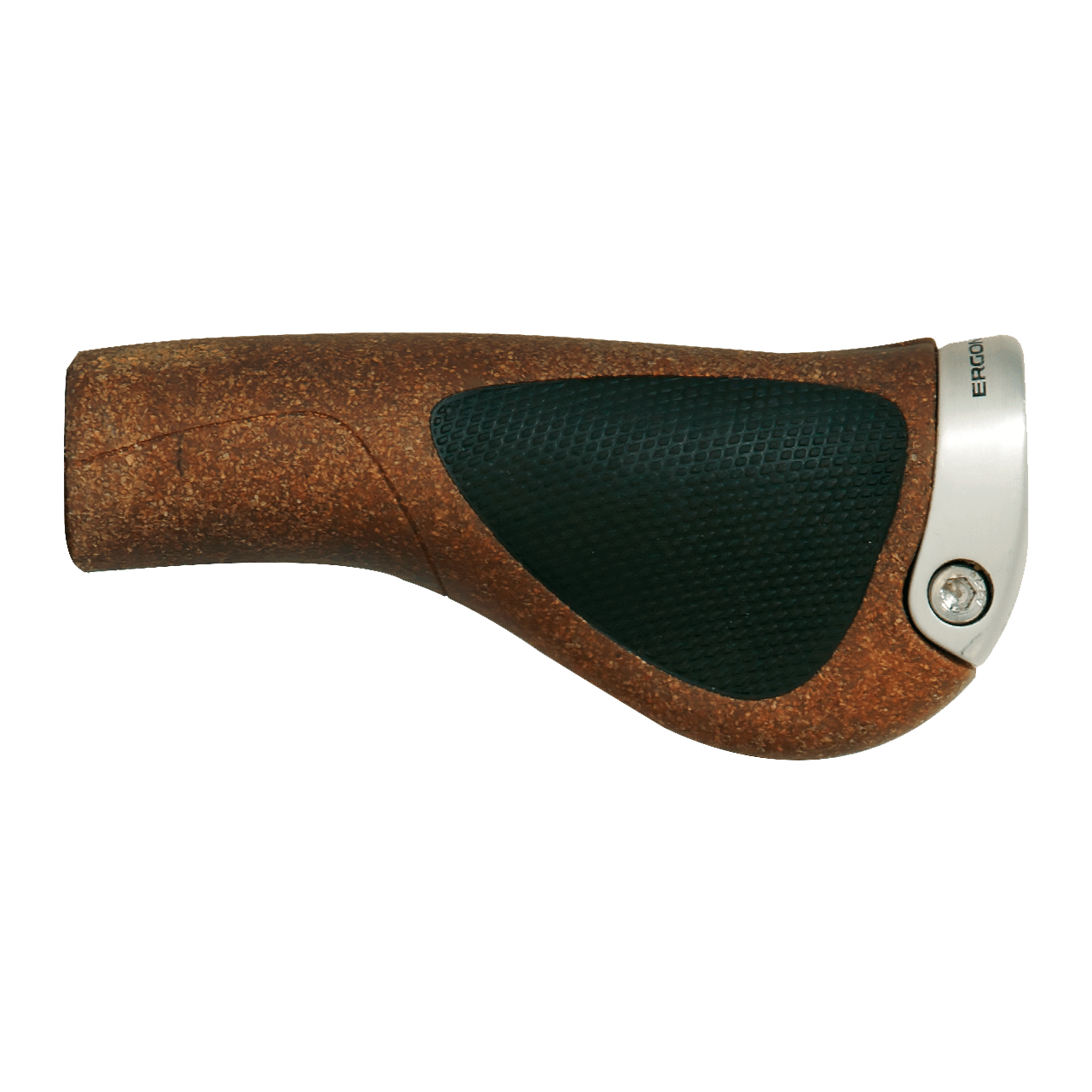 Grip Options.
Fit Them Like a Glove.
Customize your cockpit with different grip options. The Ergon grips are offered in two materials, rubber and BioKork, and in two sizes; S (6.5-8.5) and L (8.5-12.0).

Tire Options.
Optimize Your Ride.
You can choose between different tires that suit different types of ground and terrain, all depending on where you will use your Veloped.
Tube Options.
Air Suspension.
Air inner tubes offer a simple but effective way of suspension. You can choose between two different tubes, from makers CST and Schwalbe.