Rollator Walker 9er black/black/gray
9"/23 cm wheels • Size M • SuperSoft solid tires • Grip height 29.0-37.0" • Body height 4'10"-6'2" • Seat & basket
Rollator Walker 9er
The Walker 9er is your perfect choice when you are looking for a rollator to use both indoors and outdoors.
With its 9" wheels and extra-soft PU-tires you'll enjoy high comfort and a well-balanced performance. It's light and compact for easy storage and transport.
The Walker 9er is tested and fully approved according to the European standard for rollators/walkers (ISO-11199). It also has a CE mark.

---
Functions & Features
The Walker 9er is equipped with the following functions and features:
SuperSoft PU-Tires.
SuperSoft PU-Tires.
The Walker 9er is equipped with SuperSoft PU-tires that offer you a softer ride and a high comfort level. As they do not cause vibration like hard solid rollator tires do, you are less prone to suffer pain and discomfort.
Excellent Comfort »
Trionic Syncro Steering.
No Shimmying Wheels.
Conventional rollators suffer from shimmying and skewed swivel wheels. The new Trionic Walker is equipped with a synchronized steering feature that completely eliminates the problems with shimmying wheels (patent pending).
Watch video »
09" Big Wheels.
Performance is Everything.
A bigger wheel simply performs better than a small wheel. In comparison with standard 8"/20 cm wheels, with the Walker's 9"/23 cm big wheels you'll better manage obstacles and uneven ground, and your comfort level will increase on any uneven surface.
Why bigger wheels? »
---
Multiply Adjustable.
Excellent Ergonomics.
In order to offer you the best ergonomics, the handles are increment-free adjustable in height, and they can also be turned outwards/inwards. In addition the grips are angle-adjustable, so that you can find your optimal hand position. When compared with other rollators, the seat is positioned further to the front, which means that you enjoy greater space for your legs when walking. As you can then walk closer to the rollator, you automatically get a better and more upright posture.
Further ergonomic benefits »
---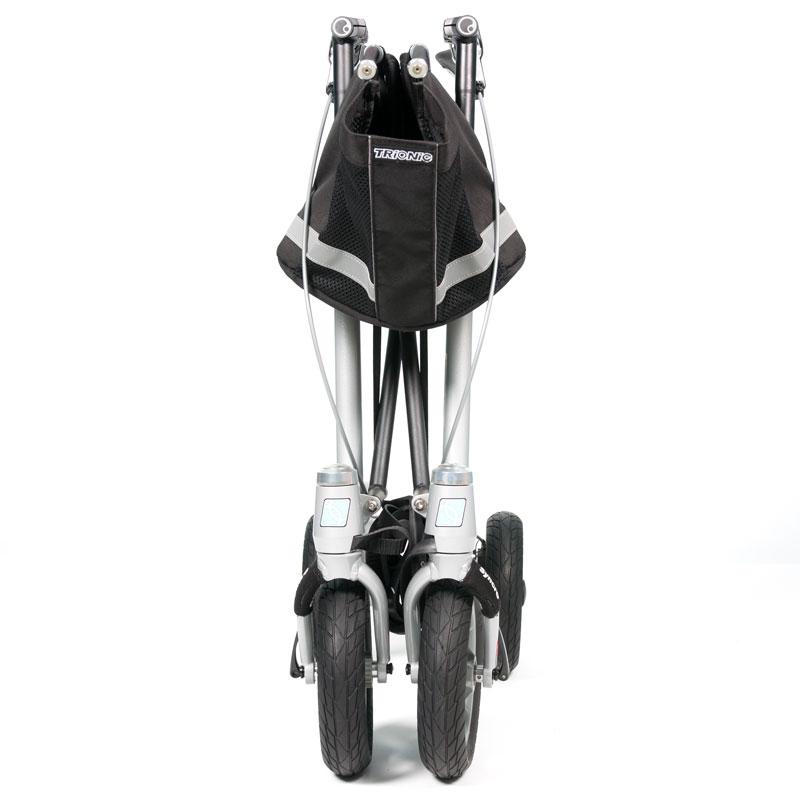 Quick Folding.
Easy Storage.
By pulling the seat handle upwards you quickly and easily fold the Walker. When folded the Walker stands upright by itself and thanks to the X-folding mechanism it is very compact.
Learn how to fold »
All-Terrain Brakes.
Safety First.
Thanks to the Trionic All-Terrain hub brake system you can always rely on an optimal brake performance, regardless if you are walking in sunshine, pouring rain or deep snow. The brakes are fully protected from dirt, water and snow.
Optimal Safety »
Trionic Brake Lever.
No More Plastic.
The all-aluminium brake lever offers you a solid and high quality feel. When activating the parking brake the parking trigger is easy to operate, and it offers you three different options to engage it.
Motion- and parking brake »
---
Seat & Basket.
Water-repellent & Durable.
The seat and the basket are both made from durable and water-repellent 600D polyester fabric.

The seat is positioned further to the front when compared to other rollators, in order to offer you greater leg space when walking.

The basket has a zippered pocket for your valuables, and a 360° reflector band that guarantees good visibility when walking after dark.
More about the textile kit »
---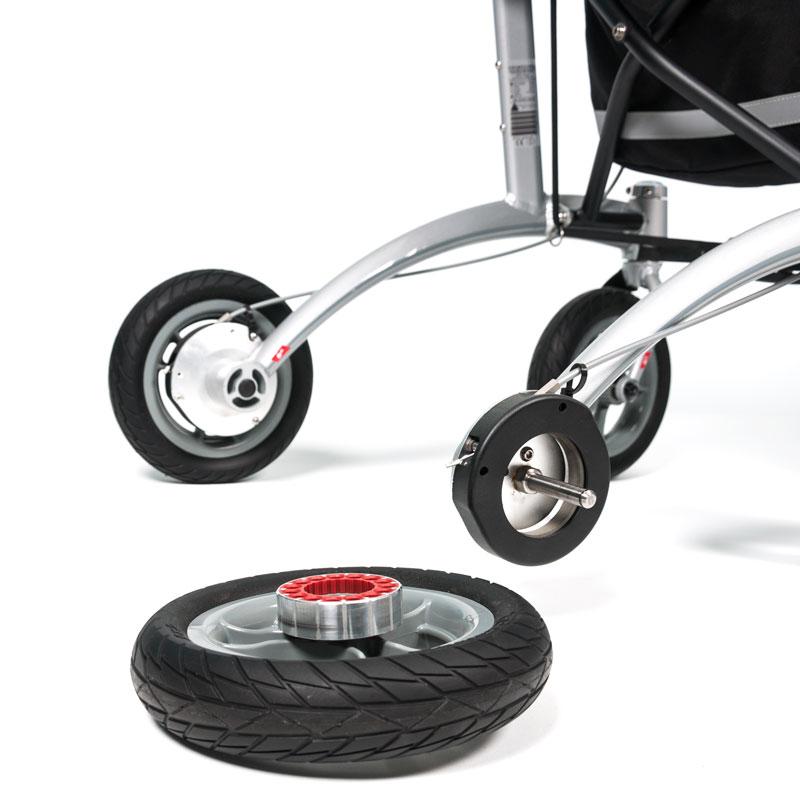 Detachable Wheels.
Easy to Transport.
The Walker 9er has detachable wheels with push-button quick-release axles, and you can quickly and easily detach the wheels in order to minimize the transport weight and the dimensions.
Load it into your car »
Award-Winning Grips.
Perfect for Your Hands.
The Ergon GP1 grips offer you a very comfortable grip. They are ergonomic and distribute the weight you put on them evenly. The grips are angle-adjustable and come in sizes S & L.
Ergon GP1 Grips »
Smooth Drive.
Easy on Your Joints.
Thanks to the syncro steering, the air-pressured tires and the bigger wheels, the Walker 9er offers you a very smooth ride, and you avoid unnecessary pain and discomfort in your hands, elbows and shoulders.
Learn more »
---
Trionic Flex.
Improved Performance.
A conventional 4-wheeled rollator hits problems on uneven ground, as one of the four wheels loses its contact with the surface. The new Trionic Flex feature gives the Walker 9er an extra bit of torsional flex, so that it remains standing on all 4 wheels.
100% Stainless Steel.
True Outdoor Quality.
Since years Trionic uses screws, nuts, washers, axle shafts and small parts made from stainless steel. For 2017/2018 the Walker also has wheel ball bearings and quick-release axles made from stainless steel.
Trionic Primera Tires.
Lighter, Softer, Faster.
Puncture protection, skin walls, reflective logos and a carcass made from a high-quality 60 TPI weave that is supple and very strong. For You the new Trionic Primera tire offers lighter weight, better comfort and a plusher ride.
Optimize Your Walker 9er
We are all unique, and we have different preferences and requirements. When ordering you can choose between different tires, tubes and grips, in order to customize your Walker 9er according to your needs.
Grip Options.
Fit Them Like a Glove.
Customize your cockpit with different grip options. The Ergon grips are offered in two materials, rubber and BioKork, and in two sizes; S (6.5-8.5) and L (8.5-12.0).
Grip options »
User Guides
The documentation for this product includes the manuals and instructions listed below. You can choose to view the documentation online or download it for local use.
int(2)
Customer Reviews
David
Trionic
Makes the difference in mobility.
Dieter
The best walker I've ever found.
My Walker is a high-quality product, which is very well thought out and easy to handle. Its robust appearance makes it seem very heavy, yet the opposite is true and one notices then that the construction is made of aluminium and is therefore very lightweight.
Dimensions and Weight
Frame size:
M
Grip height (adjustable):
74 - 94 cm
Recommended body height:
148 - 188 cm
Length:
68 cm
Width:
66 cm
Grip width (center-center):
47 cm
Seat height:
62 cm
Seat width:
43 cm
Seat depth:
20 cm
Dimensions folded
Height:
82 cm
Length:
68 cm
Width:
28 cm
Transport dimensions - folded without wheels
Height:
74 cm
Length:
61 cm
Width:
28 cm
Transport weight - without wheels
Transport weight:
6,8 kg
User Weight
Max user weight:
150 kg
Product weight
Total weight:
9,7 kg
Textile Parts - Seat & Basket
Seat base:
Welded PVC mesh with grip handle for folding function
Seat cover:
600D polyester, water-repellent w. PU-cover on reverse side
Basket:
600D polyester, water-repellent w. PU-cover on reverse side
Reflectors:
360° reflective band on basket
Wheels
Wheel size:
9" / 23 cm
Tire type:
Solid
Tires:
Trionic PU Super Soft
Tire dimension inch:
9 x 2"
Tire dimension mm:
230-50 (outer diameter-width)
Wheel rim:
PA6+15%GF. Injection-molded rim w. 3x2 spokes made from glass fibre reinforced high-grade nylon plastic
Ball bearings:
2 pcs per wheel
Frame & Forks
Frame:
6061-T6 aluminium, made from machine-formed, TIG-welded and T6 heat-treated aluminium tubes (no plastic parts)
Forks:
6061-T6 aluminium, made from machine-formed, TIG-welded and T6 heat-treated aluminium tubes
Headset:
Aheadset, 2 ball bearings/fork
Brakes
Brakes:
Trionic All-Terrain hub brakes
Brake levers:
Trionic all-aluminium brake levers w. Kraton rubber finger surface
Brake functions:
Motion & Parking brake
Handles & Grips
Handles:
6061-T6 aluminium (no plastic parts)
Grips:
Ergon GP1 grips size L 8.5-12
Ergonomic & adjustable (angle)
Grip options (upgrade):
• Ergon GP1 size S 6.5-8.5
• Ergon GP1 BioKork size S 6.5-8.5
• Ergon GP1 BioKork size L 8.5-12