Rollator Walker 14er black/black/gray
14"/36 cm wheels • Size M/L • Air-pressured tires • Grip height 32.0-39.4" • Body height 5'4"-6'7" • Seat & basket
Rollator Walker 14er
When you want nothing but the best.
The Tronic Walker 14er is the world's first rollator with 14" big wheels. We call it the "terminator" as it leaves all other rollators trailing behind it. This machine makes you walk longer distances at a quicker pace and with greater ease!
The Walker 14er is tested and fully approved according to the European standard for rollators/walkers (ISO-11199). It also has a CE mark.

---
Functions & Features
The Walker 14er is equipped with the following functions and features:
Air-Pressured Tires.
Smoothen Your Ride.
The Walker 14er is equipped with air-pressured tires that offer you a softer ride and unbeatable comfort. As they do not cause vibration like solid tires do, you are less prone to suffer pain and discomfort.
Excellent Comfort »
Trionic Syncro Steering.
No Shimmying Wheels.
Conventional rollators suffer from shimmying and skewed swivel wheels. The new Trionic Walker is equipped with a synchronized steering feature that completely eliminates the problems with shimmying wheels (patent pending).
Watch video »
14" Big Wheels.
Performance is Everything.
A bigger wheel simply performs better than a small wheel. With the 14"/36 cm big wheels you'll manage obstacles and rough ground, and your comfort level will increase on any uneven surface.
Why bigger wheels? »
---
Multiply Adjustable.
Excellent Ergonomics.
In order to offer you the best ergonomics, the handles are increment-free adjustable in height, and they can also be turned outwards/inwards. In addition the grips are angle-adjustable, so that you can find your optimal hand position. When compared with other rollators, the seat is positioned further to the front, which means that you enjoy greater space for your legs when walking. As you can then walk closer to the rollator, you automatically get a better and more upright posture.
Further ergonomic benefits »
---
Quick Folding.
Easy Storage.
By pulling the seat handle upwards you quickly and easily fold the Walker. When folded the Walker stands upright by itself and thanks to the X-folding mechanism it is very compact.
Learn how to fold »
All-Terrain Brakes.
Safety First.
Thanks to the Trionic All-Terrain hub brake system you can always rely on an optimal brake performance, regardless if you are walking in sunshine, pouring rain or deep snow. The brakes are fully protected from dirt, water and snow.
Optimal Safety »
Trionic Brake Lever.
No More Plastic.
The all-aluminium brake lever offers you a solid and high quality feel. When activating the parking brake the parking trigger is easy to operate, and it offers you three different options to engage it.
Motion- and parking brake »
---
Detachable Wheels.
Easy to Transport.
The Walker 14er has detachable wheels with push-button quick-release axles, and you can quickly and easily detach the wheels in order to minimize the transport weight and the dimensions.
Load it into your car »
Award-Winning Grips.
Perfect for Your Hands.
The Ergon GP1 grips offer you a very comfortable grip. They are ergonomic and distribute the weight you put on them evenly. The grips are angle-adjustable and come in sizes S & L.
Ergon GP1 Grips »
Smooth Drive.
Easy on Your Joints.
Thanks to the syncro steering, the air-pressured tires and the bigger wheels, the Walker 14er offers you a very smooth ride, and you avoid unnecessary pain and discomfort in your hands, elbows and shoulders.
Learn more »
---
Trionic Flex.
Improved Performance.
A conventional 4-wheeled rollator hits problems on uneven ground, as one of the four wheels loses its contact with the surface. The new Trionic Flex feature gives the Walker 14er an extra bit of torsional flex, so that it remains standing on all 4 wheels.
100% Stainless Steel.
True Outdoor Quality.
Since years Trionic uses screws, nuts, washers, axle shafts and small parts made from stainless steel. For 2017/2018 the Walker also has wheel ball bearings and quick-release axles made from stainless steel.
Trionic Primera Tires.
Lighter, Softer, Faster.
Puncture protection, skin walls, reflective logos and a carcass made from a high-quality 60 TPI weave that is supple and very strong. For You the new Trionic Primera tire offers lighter weight, better comfort and a plusher ride.
Optimize Your Walker 14er
We are all unique, and we have different preferences and requirements. When ordering you can choose between different tires, tubes and grips, in order to customize your Walker 14er according to your needs.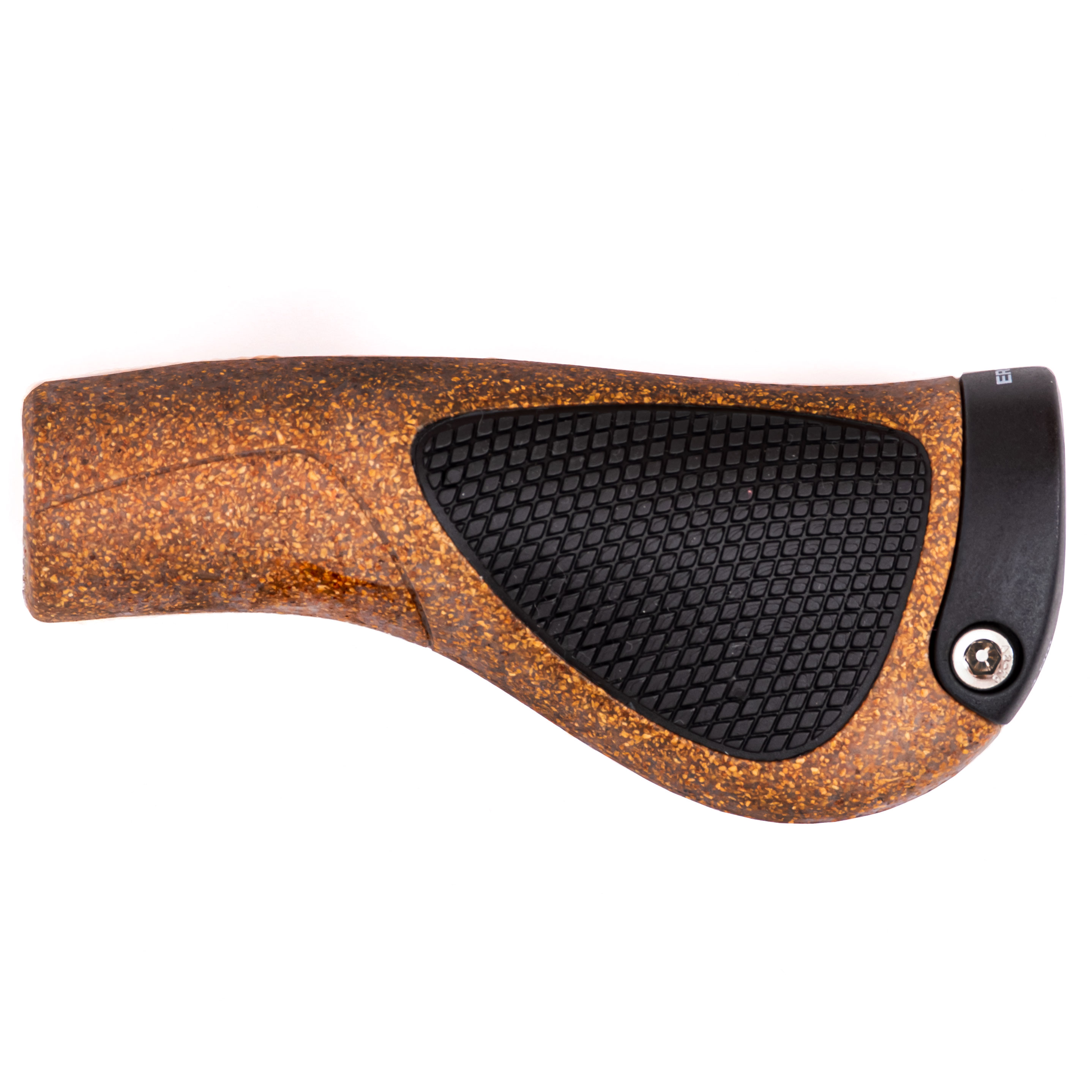 Grip Options.
Fit Them Like a Glove.
Customize your cockpit with different grip options. The Ergon grips are offered in two materials, rubber and BioKork, and in two sizes; S (6.5-8.5) and L (8.5-12.0).
Grip options »
User Guides
The documentation for this product includes the manuals and instructions listed below. You can choose to view the documentation online or download it for local use.
Customer Reviews
Review
This rollator is making my life so much easier, a really great product.
Hubert
Stable freedom of movement with optimal braking
Without a walker or two-sided crutches, I am permanently bound to a location. I have tried several rollators over the years, such as the Nitro, the Topro Troja and the Alevo Carbon.
The biggest weakness of all rollators are the brakes.
Had been ogling with a Trionic product some time ago and let a specialist prescribe it for me with a long substantiation, but the private health insurance company rejected it because of the allegedly missing listing.
When Trionic's Walker, which is significantly more expensive than other rollators, was advertised, I decided to order it even without the support of the health insurance company.
My Walker was properly packed and delivered after a few days and put into operation immediately.

First impression: You can fully rely on this device.

Visually great, stable in everyday life, security giving. It does not wobble, it overcomes easily small obstacles, it can also be used as a comfortable seat if required and the brakes are outstanding. Even when the terrain is inclined, the brakes hold safely and without a problem the weight of the rollator itself and of its user (approx. 100 kg). Overall, the Maybach among the walkers.

But after so many positives, I also have to say that the Walker is not a lightweight. Since I cannot stand freely without leaning on something, I cannot put it in the car without outside help. For this, my kind neighbour and friend supports and accompanies me almost every day for our 90-minute hikes in the nature. Thanks to the friend and the Trionic Walker for the newly gained freedom of movement with fantastic brakes.
Steve
Trionic 14er Walker
This is a great walker...very well made and design...great walker if you are 2 meter tall like me...thanks again for the team at sweden for all your help.

from Steve
Brisbane, Australia
Heinz
Trionic Walker, a great device!!!
Just a great device, the 'Trionic Walker', which I ordered the end of June 2015 in Uppsala. Two days later, the Walker was already there. Due to a herniated disc which I had suffered in a fall from a bicycle, walking was always more difficult because of severe back pain. I then searched the Internet and became aware of the company, Trionic-Sverige AB. The many good customer reviews then encouraged me to buy. I have not regretted it to this day, because with the Walker I can once again walk for hours without pain through our beautiful country.
Angelika
Going through the city on all terrain
I used to fancy the Veloped, but then when I discovered the Trionic Walker, my decision was quickly made. I have Parkinson's and in the meanwhile, the unsteady gait has severely affected me. The Walker may be somewhat heavier than other rollators, but can be steered well and on cobblestones it compensates for the unevenness due to the good suspension. The fact that the Walker can be folded up was ultimately the reason not to opt for the Veloped. Thus I have no problem riding in smaller lifts, too.

Meanwhile, I am often spoken to because I get noticed as a result of the large wheels, which make the Walker look quite sporty. Often the remark is also made that I am now moving more briskly than before. That sounds pretty good to me.
Dimensions and Weight
Frame size:
M/L
Grip height (adjustable):
81 - 100 cm
Recommended body height:
162 - 200 cm
Length:
85 cm
Width:
69 cm
Grip width (center-center):
50 cm
Seat height:
62 cm
Seat width:
46 cm
Seat depth:
20 cm
Dimensions folded
Height:
90 cm
Length:
85 cm
Width:
28 cm
Transport dimensions - folded without wheels
Height:
76 cm
Length:
67 cm
Width:
28 cm
Transport weight - without wheels
Transport weight:
6,9 kg
User Weight
Max user weight:
150 kg
Product weight
Total weight:
11,1 kg
Textile Parts - Seat & Basket
Seat base:
Welded PVC mesh with grip handle for folding function
Seat cover:
600D polyester, water-repellent w. PU-cover on reverse side
Basket:
600D polyester, water-repellent w. PU-cover on reverse side
Reflectors:
360° reflective band on basket
Wheels
Wheel size:
14" / 36 cm
Tire type:
Air-pressured / Tire + inner tube
Tires:
Trionic Primera w. puncture protection
Inner tubes:
Butyl rubber w. Schraeder/car valve
Tire dimension inch:
14 x 2.00"
Tire dimension mm:
360-50 (outer diameter-width)
Wheel rim:
PA6+15%GF. Injection-molded rim w. 3x2 spokes made from glass fibre reinforced high-grade nylon plastic
Ball bearings:
Stainless steel / 2 pcs per wheel
| | |
| --- | --- |
| Tire options: | • Schwalbe Big Apple |
Frame & Forks
Frame:
6061-T6 aluminium, made from machine-formed, TIG-welded and T6 heat-treated aluminium tubes (no plastic parts)
Forks:
6061-T6 aluminium, made from machine-formed, TIG-welded and T6 heat-treated aluminium tubes
Headset:
Aheadset, 2 ball bearings/fork
Brakes
Brakes:
Trionic All-Terrain hub brakes
Brake levers:
Trionic all-aluminium brake levers w. Kraton rubber finger surface
Brake functions:
Motion & Parking brake
Handles & Grips
Handles:
6061-T6 aluminium (no plastic parts)
Grips:
Ergon GP1 grips size L 8.5-12
Ergonomic & adjustable (angle)
Grip options (upgrade):
• Ergon GP1 size S 6.5-8.5
• Ergon GP1 BioKork size S 6.5-8.5
• Ergon GP1 BioKork size L 8.5-12